It's Spring!
A time of freshness in the air, new beginnings, new blooms, a new season, longer days of sunshine and for many, a feeling of hope.
As I write this, a pair of mourning doves (also called turtle doves) are busily constructing a nest under the patio in preparation for laying eggs and new arrivals.  The birds are undaunted by what we humans have endeared in this past year. They do seem to have their own level of stress as they take turns searching for just the right new home construction materials and stepping on each other as they assemble their nest.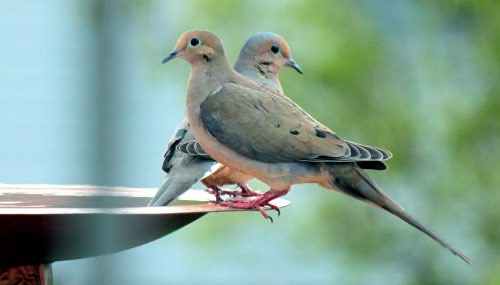 How we could be like these doves, depending on one another so we don't have to go it alone. Asking for what we need, being strong enough to apologize when we step on someone's feelings.
Spring is a new season for such beginnings. And spring is taking on a new meaning this year after over a year of isolation, fear of being around our fellow humans and keeping our heads down and covered behind masks. As we enter into Stress Awareness Month, perhaps it is time to take a look at your own level of stress and that of friends and family. Stress unchecked can lead to anxiety.
Some anxiety issues of concern in this season of Covid include:
Phobias. Fear of some type of animal or insect, fear of injections or being injured.
Social and Separation Anxiety. After being at home some may feel emotional about having been separated from loved ones or feel strange getting out again after not doing so for a while.
Panic attacks. An abrupt surge from a calm state to experiencing a pounding heart, sweating, shaking, shortness of breath or dizziness. Finding oneself overwhelmed can bring this on.
Anxiety can be caused by a loss, shame, negative thoughts, divorce, children leaving the nest, being overwhelmed, past traumas, or chaotic environments in early development. Anxiety is the leading mental health issue for Americans. And it fosters inaccurate thinking.
Be aware that:
Your thoughts are very powerful
You don't have to believe every thought you have
Your thoughts lie
There are ways you can train your very powerful brain to recognize inaccurate thinking and change your thoughts…. even talk back to them.
It is important to learn to accurately identify your feelings. Everyone has a right to feel what they are feeling. And it is really important to do just that. Your feelings are valid! Learning and practicing how to state exactly what you're feeling and seek to get to the root of those feelings will help anxiety.
Start with these core basic feelings:

Post them on your desk or refrigerator. Practice giving a name to what you are feeling on a daily basis.
As we slowly come out of this season of isolation, we need to show up for ourselves and think of how we might show up for others.
Do you know of someone who is struggling with their mental health? Learn how to be there for them at https:// bethere.org/Home
And as you spring into spring, here's hoping your feelings of hope are as bright as the sunshine.